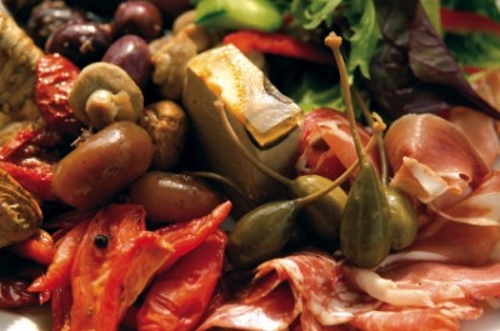 Italian Antipasto Salad
INGREDIENTS
1/2lb. of a Smoked Honey Ham sliced thin
1/2lb. of Prosciutto sliced thin
1/2lb. of hot or mild Copacolla sliced thin
1/2lb. of Genoa Salami sliced thin
1/4lb. of Pepperoni sliced thin
12oz. of Fresh Buffalo Mozzarella cheese
2lb. of Fontinella cheese
1lb. of Asiago cheese
12oz. jar of Imported Pepperoncini
12oz. jar of Roasted Red Peppers
120z. jar of Marinated Artichoke Hearts
1/2pd. of Marinated Italian Green Olives
1 loaf of Fresh Italian Bread
1 or 2 bottles of Italian Red Wine
PREPARATION
Roll the ham, prosciutto,capacolla and salami into toothpicks and arrange on a serving platter.
Slice the mozzarella into 1/4 inch pieces and arrange. Slice the fontinella and asiago cheese into 1/2 inch pieces and arrange.
Slice the red peppers,artichokes and pepperoncini and arrange.
Place the olives on the plate.
Slice the bread.